October 2021 iStrives Feature Release
iProjects: Enhanced Journey and Calendar views that displays a project plan in the form of a Gantt Chart. Know the progress of your projects in a glance with a colour coded display of the timelines for ease of reference. Check out other iProject enhancements below
iTask Enhancements: Upgraded to a consolidated portal for individual and project tasks. Now manage all tasks in a single location without having to move between modules.
iCRM Enhancements: Automated recurring invoices setup, usage of global picklist across modules and automated conversion of email address into leads. Check out other iCRM enhancements below
iBoards and iPerform: Metric Builder enhancements. New table design with added sort, search, and filter capability. Enhanced metric builder for a better view of progress and widget creation on multiple sources.
Journey view enhancements where users can toggle and view attachments in a single view. Enhanced display of reference materials that reduces clicks and improves usability

Addition of Calendar view that displays project timeline and milestones in the form of a Gantt Chart. Each level of tasks is separated by colour codes with resizable column widths for a customized display. The Gantt Chart can be viewed by days, month and year or a customized range of duration to suit your purpose

The bulk update feature allows you to perform updates on multiple tasks in one go. Select the project, folder, or task that you wish to update, apply the update to the relevant fields and hit submit. Note that the change will apply to all the tasks in a Project, Folder or Tasks without having to perform repeated updates individually.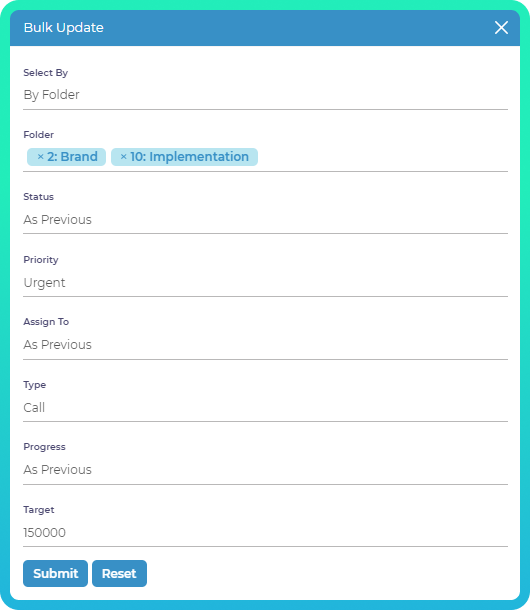 Copy or move tasks and folders across projects! This feature is extremely useful for moving open tasks to a new project or when two or more projects have similar tasks to be added in the project plan.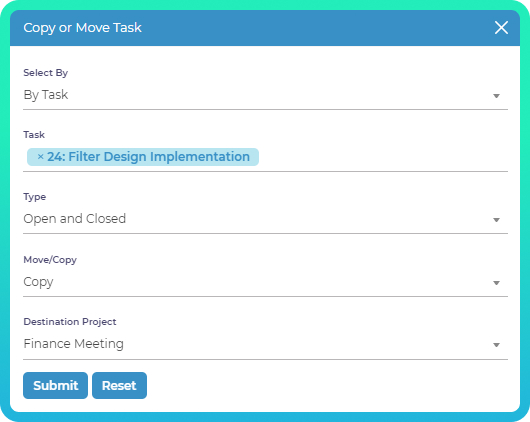 Additionally, iStrives now allows the capability to move all open or closed subtasks to a new task with just one click. Select the Move Open Task or Move Closed Task options to move all subtasks seamlessly.

Other iProject Enhancements
Selection for number of records to be displayed in a page is automatically saved and stored till further changes are made to these criteria

Subtask action list is animated and designed in a different colour background to distinguish the action icons from the main tasks. Updated icons for clear distinction for closing and opening a task easily with no pop ups

iTasks has been enhanced to combine all the assigned tasks (one off and project tasks) into a single location. This makes it easier for managing the "To Dos"
Creating invoices for recurring sales orders made easy! Sales orders with recurring invoice information are automatically converted into invoices without having to re-enter the information manually.

Global Picklist Management
Introducing a faster way for deploying picklists on multiple modules in one go. This feature enables you to create a picklist in a single place and use it across relevant modules in iCRM in a quick and simple manner.

Using Email Manager to manage your emails gives you the added feature of quickly converting emails to create Leads, opportunities, etc. With just a click you can pull relevant information to simplify the creation process and eliminate the need to swap between systems.

Introducing grouping of workflows. The purpose of grouping is to bring together series of workflows into a logical set of activities that are dependent on each other. Create your steps in your workflow and use the grouping option to keep them together as a group.

Custom fields now include the option for adding files. You can now use the customisation option to insert a field for an attachment. This does not replace the current document manager but is a good option when you want to capture images relating to a record or other files that you want to be accessed when opening a record.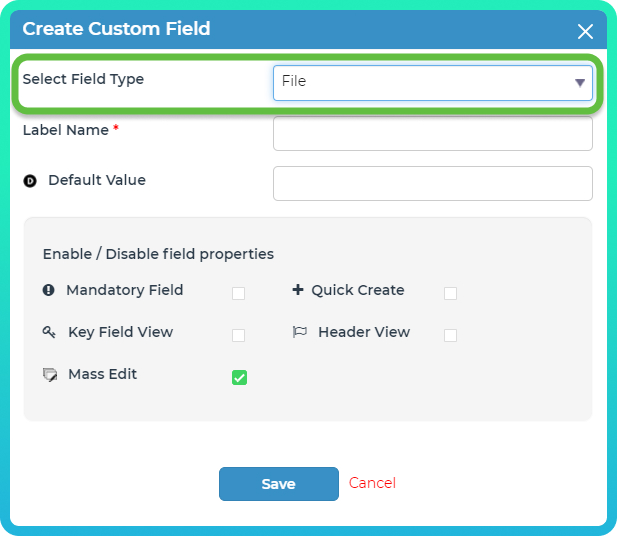 You can now use iStrives to capture customer satisfaction and have the average score visible by contact and organisation. In the activities module the NPS and CX score can be set using a 5 star rating and the corresponding average (after more than one score being submitted) will automatically rollup to the corresponding contact and organisation.

To give you maximum flexibility, we have added the ability to add new relationships to each module. Now with an enhanced layout it is easy to define relationships between modules and have those relationships automatically available in the record view.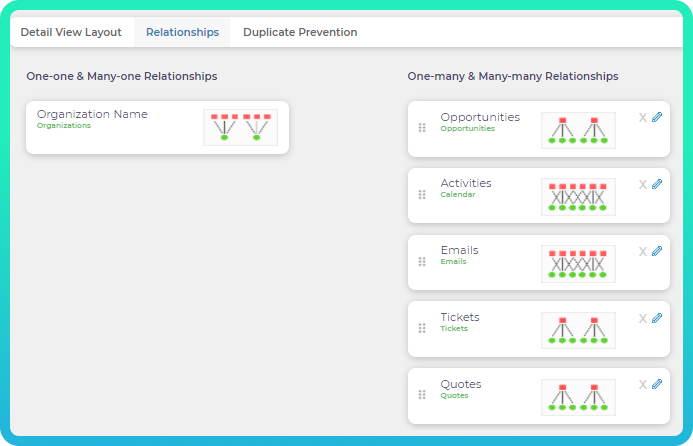 To give you maximum flexibility, we have added the ability to add new relationships to each module. Now with an enhanced layout it is easy to define relationships between modules and have those relationships automatically available in the record view.
Metric builder enhancements
We have enhanced the filters and preview functions to make it easier to set a metric criterion and preview the outcome before deploying a metric. Easily drag and drop Fields from the left pane into the filter section, set criteria using single or multiple filters then preview the outcome to verify accuracy before finalising your metric.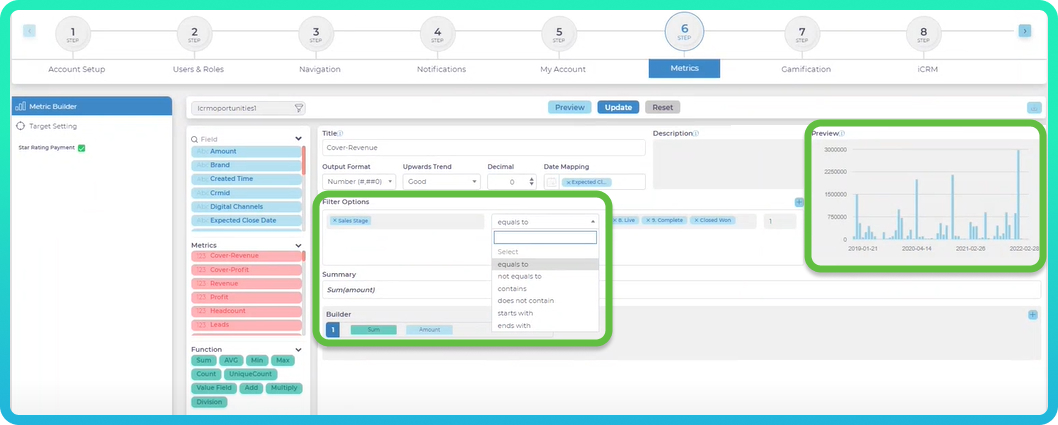 Now you can add a table to you iBoard to access more detail. The new table design allows the sort, search, and filter within each table view. Do a sort by columns headers or search for elements within columns to filter to the required information directly from a table without having to enter criteria in pop-up boxes

Performance management is at the heart of iStrives and we want to make it easy to assess performance at a glance, so we have added RBG settings to iBoards. Set colour conditions (Red, Amber or Green) to convert flat charts into performance indicators. Set value/s and parameters so that grafted outcomes coloured performance charts.