Wouldn't it be great to have a tool that simplifies and automates performance management as well as motivates and makes it easy for each of your team members to drive their own personal success?
The success of Swivelt's growth services relies so much on an individual as well as team performance that we decided to build and deploy such a tool into our teams.
Seeing the impact, it had on our teams, we thought we had to share it with every company on the planet.
Welcome the New Performance Management Platform
Simplifies Performance Management
Manages motivation (Steer behavior)
Creates a Self-propelled, Autonomous workforce
These top three features steer and enable your team towards achieving the organization's goals.
Simply add your team, the team structure, upload your data (from any source), select the metrics and set the targets and your Performance Management Engine is running:
Every layer sees its target and achievements from their personal scorecard
Leaderboards make it fun to drive competition
Multi-layer recognition and gamification to motivate, reward and recognize your teams;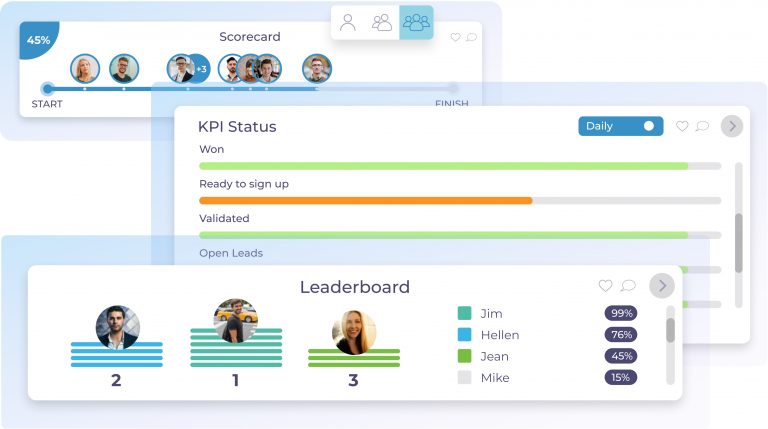 You can use iStrives' mechanics to instantly drive focus with a simple target setting, leader boards, performance tracking, competitions, and reward mechanics.
iStrives combines targets with gamification, AI, incentives and recognition so that you have all the behavioral mechanic tools to design, tweak and steer your teams to the desired outcomes.
The real power of iStrives is how it creates a self-propelled workforce (read more about our thoughts on this topic in our Autonomous Workforce blog post). iStrives automatically breaks targets down into daily bite-sized chunks, monitors and interacts with the team daily and gives them visual feedback on performance (Star rating) and a daily financial incentive.
Each day your team will be laser-focused to be a 5-star team member and be rewarded for their daily contribution.
To make sure they have everything they need to be successful, just fill up the Toolbox with quick links, training material and other relevant documents, images and videos and/or push any content like News, information, Industry activity, etc, using simple RSS feeds.
Performance Management
CRM
Project Management
Collaboration
HRMS
Gamification
Rewards
Document Management
Task Management
Communications
Business Intelligence
We are already using iStrives for our teams and thought the results were just too good to keep to ourselves, so we shared it with our customers and already they are seeing the impact…
Curious to learn more about how Swivelt can help to grow your business?
Just fill in the form below and we will reach out to you in a blink of an eye