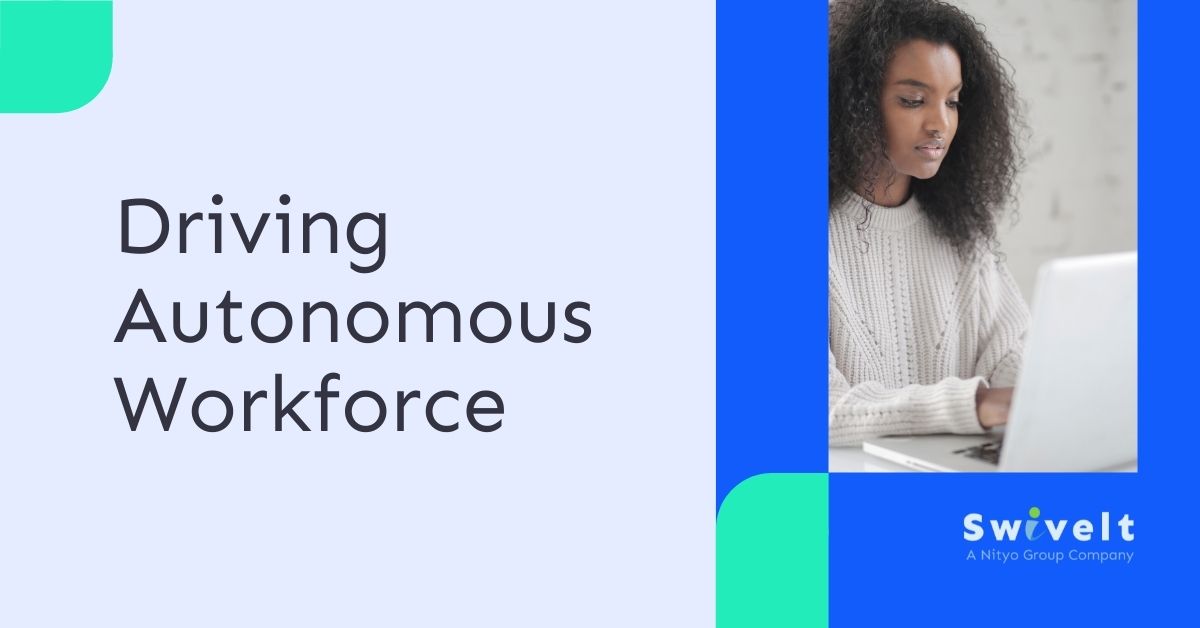 More than ever, today's workforce seeks freedom. The freedom to get their work done in a manner that works best for them. They look for freedom to:
Work from Anywhere (WFA); in the office, at home, a café, coworking, etc.
Set their own schedules to fit into their lifestyle
Make choices that balance the benefit between them and the company
The growth of the gig workers and freelancers is a signal to all companies of the change that will occur in workforce acquisition and management.
This growing demand for autonomy will affect your existing and new teams. In today's competitive environment for talent, if you want to take the lead or stay ahead, you will need to develop your practices on fostering and enabling an autonomous workforce.
While this change might sound daunting, studies show that higher levels of autonomy often result in an increase in job satisfaction and productivity. So, embracing this change is a win-win for companies and the workforce.
For autonomy to work, everyone must understand these key points
Autonomy does not give an individual the freedom to operate without authority from management or avoid team collaboration. The business is still a team and what needs to change is the "process" of how to manage and collaborate in an autonomous WFA model.
While autonomy gives an employee some freedom, there are still guidelines that need to be followed. The employer still defines the rules and controls the end decisions and should setup guidelines upfront to foster a solid and trusting relationship.
It is important to keep in mind that autonomy is NOT leaving employees to figure it out themselves.  Management still plays a role in guiding individuals, however, they will rely more and more on tools designed to assist in managing an autonomous workforce. 
Ways to drive autonomy in your workforce
The good practices you have in place for building trust, giving employees ownership of their work, making room for mistakes, etc.. don't change. You only need to shape them to a WFA model, so you are less reliant on face to face interactions.
There are some new elements to consider for managing and fostering the right autonomous workforce. In our opinion the top 5 elements are:
Selecting these kinds of people will give you more confidence and shape your workforce so that autonomy isn't risky.
Make Goals and Objectives always visible
The key to getting the right outcomes from any workforce, autonomous or otherwise, is to provide clear and very visible goals and objectives.
For the WFA model, it is critical to make these even clearer and highly visible. You will need to tighten mechanisms and tools that allow for any re-periodization or changes to be effectively communicated and instantly visible.
To keep your autonomous workforce aligned to the business direction, use tools that enable and automate constant reinforcement. Avoid emails or chat platforms as your only tool… they are just recorders not reinforcement mechanics.
Be ready for fluidity in the workforce
The increasing demand for Freedom means there will be more movement in your workforce particularly in the gig workers and freelancers.
How you onboard, get individuals knowledgeable and maintain that knowledge will be ever more critical to reaching the business goals and objectives.
Time to ramp to full productively will be hindered by a spaghetti junction of systems, tools, knowledgebase, training and wide distribution of information tools on products, services, competitors, process, etc..
Pulling everything together into a single "portal" for your organization will help you to reach productivity quicker for new members and make it easier to enable the WFA model.
This doesn't mean you have to reshape your whole IT systems and tools strategy, rather just think about a front end that makes the spaghetti junction invisible to an individual.
Always 'On' performance management
Providing regular feedback and guidance on performance is an important part of ensuring the success of any business and to keeping teams highly motivated.
The practices you have used successfully to manage performance need to be transferable over the video, chat, phone and other collaboration tools you deploy.
With today's suite of technology, you can establish an always-on performance management view so that every individual can "self-serve" to see how they are performing against their personalized goals and objectives.
Quick view dashboards will help them manage their own performance to become self-propelled, gamification can be used to inject fun and collaboration plus leadership can provide instant feedback on performance through these tools.
Integrating an always "On" performance management strategy will simplify the management of any workforce. Specific to an autonomous workforce, this will be a key component of your success.
Become omnichannel collaborators
Already you are likely using multiple channels, collaboration tools, to work with your teams.
Getting comfortable moving from one channel to the next will make working with the autonomous workforce easy. Like with customers, be flexible with the channels to match your workforce. However, do set up clear guidance at the start and don't over complicate the number of channels to the point where communication and collaboration become unfocused or scattered.
Become an expert in using video to replace face to face and use more two-way channels like chat tools to replace the one-way channels like email.
Likewise, set your management team up for success by giving them the right tools  to manage and collaborate with their autonomous workforce. Getting to the autonomous workforce will be an exciting shift for every organization. Being ahead of the curve in this transition will be a competitive advantage. At SwiveIt we use our iStrive platform as our single interface into the business and to manage the 5 key elements for our autonomous workforce – both employees and supervisors. If you would like to know more, connect with us and we will be happy to help.
Curious to learn more about how Swivelt can help to grow your business?
Just fill in the form below and we will reach out to you in a blink of an eye